As the opioid epidemic continues to plague our community, we will focus on the
perception of substance abuse disorders and explore active solutions for
prevention, treatment, and aftercare for our moms and babies.

---
Workshop Information:
Friday, November 3, 2017
8:30 AM – 3:45 PM
Workshop Cost:
$45.00 (Includes Lunch)
Location:
Florida Department of Health Brevard County, Bill Posey Conference Center
2555 Judge Fran Jamieson Way, Viera, FL 32940
---
Keynote Speakers:
–Erin Shea, LCSW
Licensed Clinical Social Worker, Brevard Health Alliance
–Dave Kneessy, M.S., LMHC, MCAP, MAC
Regional Director, Central Florida Treatment Center
–Sue Bowles, DNP, CNS, RNC-NIC, CBC
Clinical Nurse Specialist, Neonatal Services, Winnie Palmer Hospital for Women & Babies
–Traci Klinkbeil, CPM, M.A.
Circuit Community Development Administrator, Department of Children and Families
–Kirby Morgan, B.A.
Central Region Child Fatality Prevention Specialist, Department of Children and Families, Family Safety Program
---
5 CEU Credits/Contact hours are APPROVED for:
Social Workers, Mental Health Counselors, Teachers,
and Nurses (RNs, LPNs, CNAs, ARNPs, Midwives and Nutritionists)
---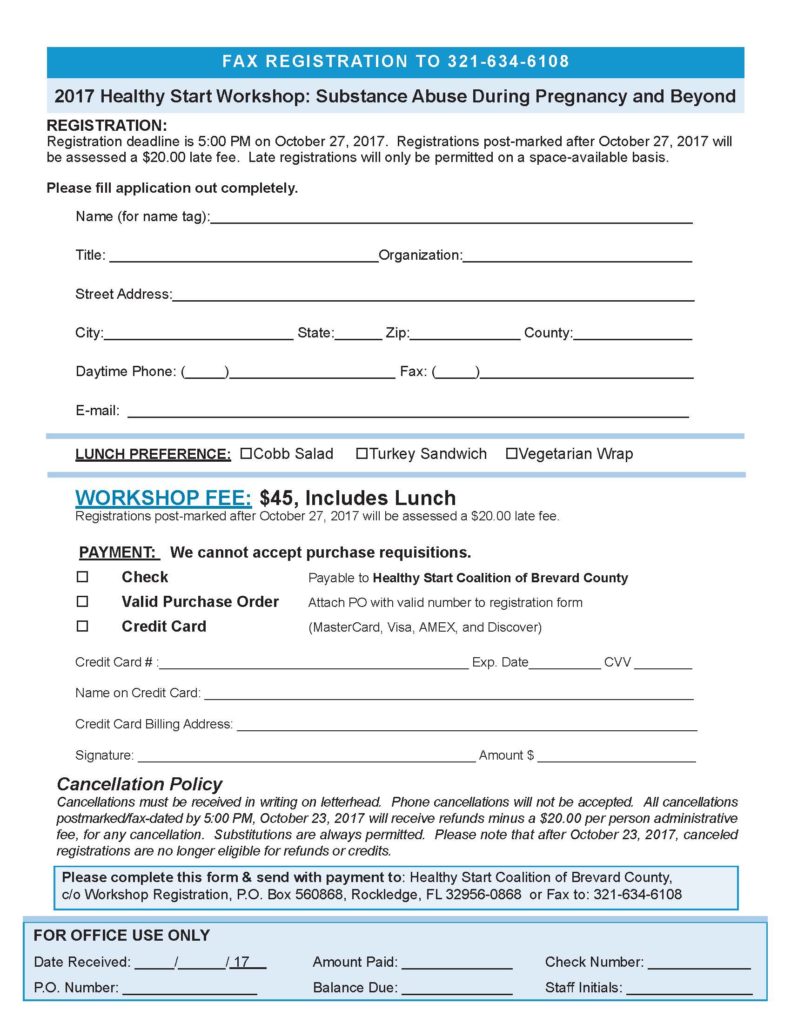 Workshop Registration
WORKSHOP FEE: $45. Includes Lunch
Space is limited. This is an intensified workshop.
Registration deadline is October 27, 2017. Registrations after October 27, 2017 will be assessed a $20.00 late fee. Late registrations will only be permitted on a space-available basis.
>> CLICK HERE TO DOWNLOAD REGISTRATION FORMS <<
Please FAX or mail back the completed registration form




Cancellation Policy: Cancellations must be received in writing on letterhead. Phone cancellations will not be accepted. All cancellations postmarked/fax-dated by 5:00 PM, October 23, 2017 will receive refunds minus a $20.00 per person administrative fee, for any cancellation. Substitutions are always permitted. Please note that after October 23, 2017, cancelled registrations are no longer eligible for refunds or credits.
---
For More Information Call 321-634-6101